Location d'une tente équipée en Dordogne : Êtes-vous prêt à camper ?
Le charme du camping et le confort de la location : la tente équipée présente de nombreux avantages !
Equiped tent : Ready to camp
Nos tentes prêtes à camper vous permettent de vivre des vacances 100% camping, mais sans les contraintes : pas besoin de monter la tente, ni d'amener tous les équipements comme la vaisselle ou les chaises !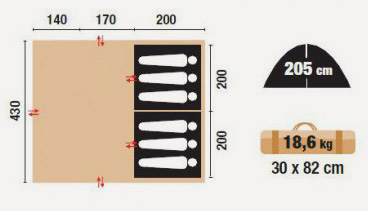 Équipement de la tente
Nos tentes « Prêt à camper » sont entièrement équipées. Vous n'avez qu'à y poser vos valises.
Elles se composent de :
Deux chambres avec des matelas gonflables (déjà gonflés bien évidemment)
Un coin cuisine avec une plaque électrique, des ustensiles de cuisine, de la vaisselle et un réfrigérateur.
Un coin repas avec une table et des chaises.
La location comprend :
La tente igloo tube 4 places
Emplacement avec électricité
Parking de votre voiture
La location comprend également l'utilisation du bloc sanitaire, l'accès aux piscines et aux animations (en haute saison).
Fancy a holiday in the Dordogne ?
I book